The number of mobile subscribers in Africa is now approaching 900 million . To be precise the Ericsson's mobility report puts the figure at over 880 million active lines.
Fredrik Jejdling, Ericsson's president and regional head for sub-Saharan Africa, told reporters in Nigeria he predicts 90 percent of the world's population over the age of 6 will have a mobile phone by 2020.
Last week we reported that the Nigerian Communications Commission (NCC) puts the number of registered lines in Nigeria at over 130 million. Across the continent though, the challenges of coverage and service quality remain.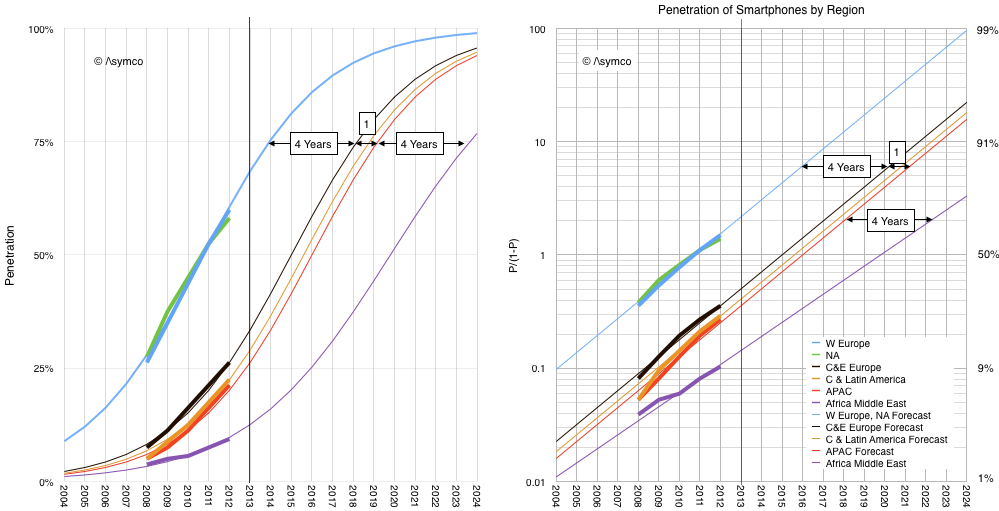 smartphone penetration chart by region, image source: TechCrunch
Informa UK's terrific Africa Telecoms Outlook (PDF) projects 334 million African smartphone connections in 2017, maybe 30% of the continent's population.
Despite this figure, the internet penetration level is still below 30%. This has led to some big companies like Facebook and Google to set up affordable internet services across the continent.
See the chart below as seen on internetworldstats.com
INTERNET USERS AND POPULATION STATISTICS FOR AFRICA
AFRICA REGION
Population
(2014 Est.)
Pop. %
of World
Internet Users,
31-Dec-2013
Penetration
(% Population)
Internet
% Users
Facebook
31-Dec-2012
Total for Africa
1,125,721,038
15.7 %
240,146,482
21.3 %
8.6 %
51,612,460
Rest of World
6,056,137,581
84.3 %
2,562,332,452
42.3 %
91.4 %
924,331,500
WORLD TOTAL
7,181,858,619
100.0 %
2,802,478,934
39.0 %
100.0 %
975,943,960